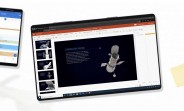 Microsoft is rolling out the visual update it gave to insiders back in July to its regular Office users. Both 365 and licensed versions on Windows are getting the refresh now.
The update is matching Windows 11's visual style with rounded window corners and the option to use a dark theme (or sync the theme with your Windows).
The Quick Access Toolbar (the one at the very top) has been hidden by default, but you can bring it back with a right-click on the ribbon and a check the Show Quick Access Toolbar option.
You can tell you've gotten the visual refresh if there's a…