Better is the person who reads the Qur'an and teaches others, Rafaqat Haqqani
Next Friday, there will be a Friday sermon at one o'clock and Friday prayers at two o'clock, Mrs. Haqqani
Girls should be introduced to the teachings of Qur'an and Sunnah on the methodology of Sufis: Tayyab Miladi
Attock (Dr. Shuja Awan) Friday prayers for Islamic girls inaugurated at Jamia Haqqania Zahir Ul Uloom Atoock Cantt; On the occasion of the annual ceremony of Milad-e-Mustafa PBUH and Giyarhween Sharif organized by the Department of Girls.
Umm Haroon Principal Wa-Dhaha Al-Kaliya Al-Ghouthiya addressed the women first while Allama Mufti Abu Tayyab Rafaqat Ali Haqqani taught on social issues and said that the best person is the one who reads Qur'an and teaches others. He said that Piran E Pir Sheikh Abdul Qadir Jilani said that the person in sleeping state was in a dream and I was visiting Hazrat Muhammad Mustafa PBUH in my waking state. Allama Haqqani prayed that the day would come when we would go to the two holy mosques and say, 'When the minarets of Masjid Nabavi were seen, the signs of Allah's mercy were seen'.
Allama Abu Tayyab Haqqani said that Friday, December 11 is the Urs of Imam Noorani Siddiqui. Who gave the gift of the 1973 constitution to the country and the nation.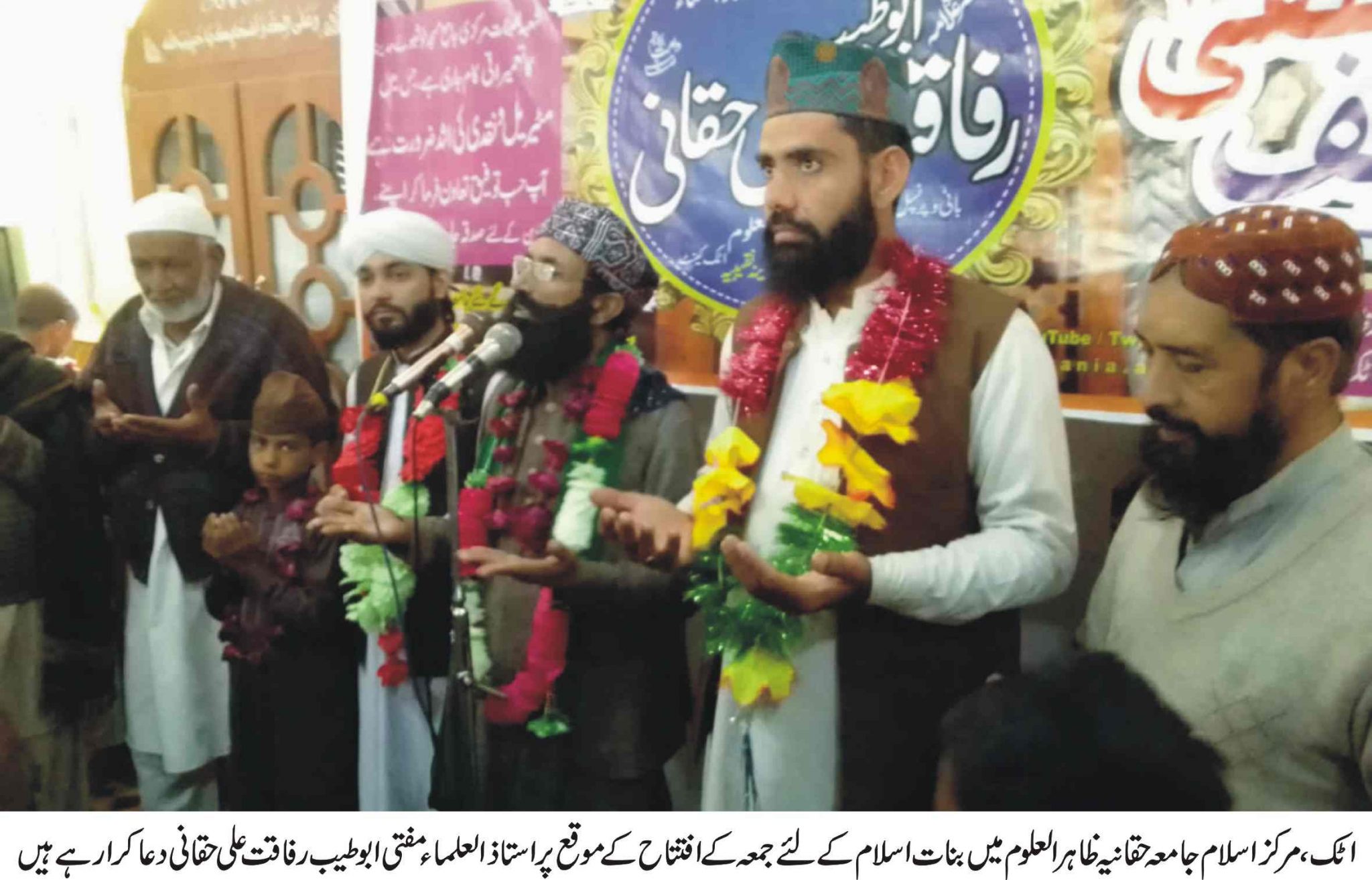 During the ceremony, the inner hall, ground floor and first floor of the mosque were filled with women and men. Prayers were offered for the security of the country and the nation. After the ceremony, food was served to Islamic sisters and dignitaries۔ In the annual ceremony, Sahibzada Dr Muhammad Shaban Haqqani Awan, Dr Qari Muhammad Yasir Awan, Maulana Hafiz Muhammad Daud Rizvi, Hafiz Muhammad Ismail expressed their devotion in their own way while congratulating the students of Holy Quran recitation from the Jamia. Mrs. Haqqani, Principal of Jamia Lalbanat, thanked the Islamic sisters and said that next Friday, Friday Sermon will be delivered at 1:00 PM and Friday Prayer will be offered at 2:00 PM. A place of prayer will be arranged for the performance of prayers.
Meanwhile, Sahibzada Engineer Muhammad Tayyab Miladi, Nazim-e-Ala of Jaima, told the media that the purpose of this sincere initiative taken by the Center of Islam Jamia Haqqania Zahir Ul Uloom is to acquaint the girls of Islam with the teachings of Qur'an and Sunnah in the manner of Sufis. Our generation should be able to get the Islamic environment from the first school which are the laps of their mothers.